Both the South Florida 912 Project and the South Florida Tea Party had rallies on this cloudy, rainy Saturday.  First, the South Florida Tea Party assembled in honor of the 1 year Tea Party anniversary of Rick Santelli's Rant on CNBC (2/19/09).  A crowd of 30-50 showed up at noon on the corners of Okeechobee and Military Trail.  (Another group stood at PGA and Military Trail.)  Everett Wilkinson, one of the founders of the group and its leader and spokesman, took a video of the participants with signs protesting government spending, the size of government,the health-care reform bill, West Palm Beach term limits, and  numerous other issues.  Ed Lynch, candidate for Congressional District 19 stood with us.  There was a lot of traffic at the fast moving intersection and we got the usual honks and thumbs up as well as some not so favorable hand gestures.
Next was the South Florida 912 Project's Rally for America with Elizabeth at Okeechobee and 441.  People lined up with their signs around the corner as the 50 or so demonstrators joined Elizabeth Andrijauskas.  There was slightly less traffic at this intersection and the cars went by somewhat slower but we got a lot more honks so this neighborhood was more supportive.  Candidates Lynch and Tami Donnally (Florida House 85) joined us as well as Dennis Lipp (Vice Mayor of Loxahatchee Groves).  Joe Budd came with a giant flag.  People from as far away as Miami participated.  South Florida 912 Project co-founders Shannon and Doug Armstrong mixed with the crowd and spoke with Everett when he joined us at this rally too.  The mist turned into a heavy drizzle as the crowd persisted with umbrellas and ponchos.
As many of us transition to activist activities directly helping candidates for public office, it's important to make a visible statement every so often so that the public knows that the 'sleeping giant' is still awake!
Those who live in Palm Beach Gardens should be aware of the March 9 municipal election. Running against Mayor Joseph Russo for City Council seat 2 is Pat Hughey, who believes that the incumbent's tenure of 24 years is way too long.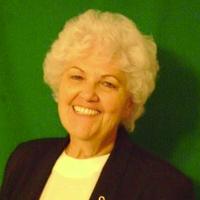 Pat has been a Gardens resident since its founding and has contributed to the community in various ways, including being a founding member the Citizens Mobile Patrol, and working on city beautification and safety issues.
Her campaign is focusing on improving transparency in city government, trimming the budget, and arguing for term limits, as she believes that new blood in city government would be a good thing.
If you would like to meet Pat and Rob Palladino, the candidate for PBG Council seat 4, there will be a public meeting on Sunday, February 28, 2010, from 2:00PM to 4:00PM at 601 Heritage Blvd. in the University Commons, Jupiter, FL.
For more information, you can visit Pat's website HERE.
Non-Partisan, No Group Affiliation.  5 YEARS OF SUCCESS – Margie Patchett
A bunch of us, who live in Palm Beach County are working on 

Lower

 

Taxes

 

Now

 with the famous Margie Patchett who has up and running groups in 24 counties in Florida.  Join us to go over her blueprint to get started!
Lower

 

Taxes

 

Now

 – Palm Bch County w/Margie Patchett
Time: February 26, 2010 from 6pm to 8:30pm
Location: Duffy's PGA
Street: 11588 US Highway #1, (PGA Blvd. & US1)
City/Town: North Palm Beach
Website or Map: http://maps.google.com/maps?f.
Event Type: get started, training
We need  help to flush out the waste, fraud and abuse in Palm Beach County.  Non-profit, proven program following the blueprint, the book "Building a Better Local Government", in an unbelievable step-by-step, everything provided blueprint that's unbelievably easy.   
Margie has plenty of the books for all of us and there 's plenty to do, All we need is 

you

, the 

abused 

taxpayer

  who has had

enough

!  This is the night that Margie tackles and exposes Palm Beach County! 
Hope to see there!  Bring a laptop if you have one please 
Join us as we get started, JOIN US AT THE BEGINNING
On Thursday, 2/25, C‑SPAN3 will show day-long LIVE coverage of the White House Health Care Summit starting at 10am ET. For those of you, like myself, who don't get C-SPAN3 – you can watch it streaming at the C-SPAN video stream selector.  Streaming will also be available at the Whitehouse website, and probably many other sites.
I sent the following note to Rep. Grayson and Sen. Nelson today.  I hear people say they don't know what to say, so I thought I'd share this.  If you would like, feel free to use it in any way that works for you.  The only thing I did was change who I was writing to and who I wanted each of them to contact.
Senator Nelson,
As a member of the South Florida 912 organization, it has come to my attention that the overwhelming public outcry against the current administration's Health Care reform initiatives are once again being ignored as this bill is being brought to the Senate floor yet again.
With all due respects sir, what part of NO concerning government involvement with our health care do the members of the Senate and House not understand? Please allow me to re-state without reservation that the vast majority of the American people do not want this or any version of it.
As a private citizen and a member of a growing organization, I urge you to re-consider how you vote, and to contact all of Florida's House members and urge them to stop this bill. Please recognize that your continued service in the senate and all of the house members seats rest on this issue.
Respectfully,
David DiCrescenzo
This was actually a PS to my Glenn Beck blog today, but due to its length, I decided to make it separate even though the final analysis I mentioned before doesn't nor will ever change for me.
While as some of you know, I joined the ranks of those that did some personal campaigning for Scott Brown via emails, calls, and texting, I'm not really surprised by his vote yesterday.  I obviously don't live up there anymore, but I saw him as the "anyone but Coakley" candidate.
I mention the above because a very conservative lady friend of mine who operates a well-known blog on Facebook and is "one of us" expressed just before he was sworn in that she liked him very much.  I agreed but reminded her that no matter how good they look, sound, and smell, we all need to watch every one of them like a hawk and hold them accountable for their actions as it is the nature of politicians to say one thing and do another.  As Harry Truman once said, (loosely quoted)…."politics is the second oldest profession in the world and bears a striking resemblance to the first."
Back to the freshman from Massachusetts; he was given his chance and as a now seated senator, Scott Brown will enjoy a handsome lifetime "salary" and medical benefit no matter how well or badly, (replace conservative and liberal with well or badly respectively) he may perform, even if he only serves one full term.
Speaking of a full term, as far as I know, much like the Florida's District 19, his seat will come back up for grabs soon enough.  If he continues to perform as he just did and take non-conservative stands on issues, the voters up there could very well decide to see how well the taillights on his much ballyhooed truck work and send his sorry butt back home.
Rest assured that when I am next in the company of Ed Lynch, Alan West, or whoever, I would remind them that if elected, all of us in our combined groups will be watching to ensure they vote like the conservatives they've sold themselves as.  We are strong enough to help get them in, and therefore strong enough to help get them out!
A friend of mine from church sent me an email today.  While he's not politically active accept for voting, he's a conservative guy with a good set of values.  We talk a lot and he knows about my involvement and that I am a fan of several in the conservative media including Glenn Beck and Michael Savage, to name a couple.
Anyway, his email discussed the buzz that's been going around in the last several days concerning Glenn Beck and his supposed reversal on the subject of global warming/climate change.
His email got me to thinking and my response was essentially as follows.  I'm not sure what's up; it might be a lot of things.  As I'm a regular listener and haven't personally heard GB say anything like this, I'm thinking it could be and likely is, the libs taking text out of context to try and paint him in a bad light with his audience.  Without a doubt, his detractors would do anything to discredit him.  Let's face it, we love his books and his shows in the various media; and we gobble it up, much to the chagrin of the libs whose own media outlets are steadily losing ground on every front.
A lot of us may look to him as a defacto leader of the conservative movement; some even want to see him run for office.  I don't want him to run by the way, as I believe he does more good for us from where he sits than he could if elected.  And until I hear/see actual evidence to the contrary, I will continue to believe that he is what he appears to be; but who knows.  At the end of the day, he is admittedly an entertainer and as incredulous as it is to imagine, could harbor differing thoughts from his publicly expressed viewpoints.
Having said that; at the end of the day, it doesn't matter what Glenn Beck, Michael Savage, or anyone else on either side of the issues has to say, our focus needs to be unwavering.
Because it is so easy to get distracted by the constant barrage of stuff from all sides, we need to constantly remind ourselves that there is only one who matters and He is in complete control. All the political pundits, Hollywood elitists, politicians/morons, average slobs like me, and you name it, don't amount to a hill of beans in the final analysis.
Be of good cheer.  The battle is won.
The Palm Beach County Supervisor of Elections has posted the sample ballots for the towns that will be having Municipal Elections on March 9th.  Click HERE to see if your municipality is having an election, do your research and vote!
---
PARTY!!!!!!!
When: Sunday, March 7, 2010 2:00 PM
Where:
McKenna's
4636 Jog rd.
Greenacres, FL 33467
561-964-0900
---
Big Big news
We will all reconvene once again to commemorate our first gathering of the South Florida 912.
I remember when Glenn called us together to find others who felt isolated and alone when it came to their beliefs and we did come together and we found so may people who were concerned about the direction the country was going.
350 people at the first event!
Let us all gather again in a Rally for America and and a Rally to remind us how far we have come! BRING A FRIEND !
There will be special guests, and a special Agenda.
We will be showing footage from the first meeting and pictures and video's from various events from throughout the year including pictures from OUR March on Washington DC.
---
We are planning door prizes!
Gift certificates, Raffles and 50/50 drawing will be held.
We have the restaurant ready and eager for all of us to come out and have a great time! Thanks to Peter the owner at McKenna's 15% of the profits will go to the South Florida 912 to help us to continue in our efforts. We also need your help and support by purchase things like Pocket Constitutions, Flags, wrist bands ect.
---
Our Charity this month, will be Missionary Flights International and we ask everyone who comes to help "Fill the Van" Supplies that are needed most is first aid items, blankets / sheets, dry goods ex. Cereal bars, chips ect. Hand sanitizer and even personal items for women. Tooth brushes, paste, soap, shampoos ect. 
So please RSVP and bring a friend who missed out on a piece of History last year to come out this year and help us celebrating BRINGING AMERICA BACK TO THE PEOPLE !!! 
One year ago things look bleak!
Take a look at our Journey…
We had a protest April 15th
We Rallied at Wexlers and Kliens
We Rallied against the media
We supported Israel in Rally's
We Went to Health Care Town Hall Forums
We Stopped Reckless landfill Spending
We Helped pass The Inspector General in Palm Beach County
We Marched on Washington
We Rallied for America
We marched in parades!
Worked on Gun shows
We supported our Veterans!
We have met in each others homes.
We supported various charities ranging from food for the homeless, Adopt a family and Haiti
We rolled out a new Interactive Web site with over 2000 hits a month http://southflorida912.org/
We supported Scott Brown and Won!
We have laughed, cried, prayed together!

Let us have a day of Celebration!YOU ALL deserve IT BECAUSE WE SURROUND THEM!GREAT JOB 912ERSSee you there!

IF YOU HAVE NOT SIGNED UP FOR THE NEW WEB SITE PLEASE DO THAT HERE

=============

South Florida 912 team

Shannon, Doug, Ed, Fred, Iris, Roberto, Dennis, Larry, Cherilyn, David, Ken, Jeane, Merylee, Maria, Jason, Jim, Mathew

Learn more HERE

The food and drink will have a cost however the friendship and camaraderie will be PRICELESS.

Event Tracking

You must be logged in to join the event.