November 6, 2012 is just around the corner.  Really – it will be here before we know it and there is a lot of hard work needed to get to the changes we want to see in that election.
Date/Place: Thursday, November 10th at the Lantana Rd Branch of the Palm Beach County Library **
Time:  6:15-6:30 – Meet & Greet; 6:30-8:30 meeting
The theme of our meeting will be the Election Cycle.
First, we will begin with a video about Truethevote.org (http://truethevote.org), a Texas-based grassroots group focused on rooting out and preventing election fraud.   Citizen involvement at all stages of the election cycle is key to doing so.
 
Our keynote speaker will be the Supervisor of Elections,  Susan Bucher.  Ms. Bucher will give us an update on the upcoming election calendar, changes in voter registration rules, early voting and any other pertinent changes.  We also would like her to describe the importance of being a poll-worker – since that is a key way to be part of the process and ensure the legitimacy of the voters and the vote.
Mark Hoch, Political Director of the Republican Party of Palm Beach County, will speak about another way one can validate the vote and that is by serving as a poll-watcher.
We will have our value of the month, and of course, announcements by any candidates/candidate reps who wish to speak briefly at the end of our meeting.
Bring your questions, think about what motivated and mobilized you over the last couple of years and why you got involved in the first place and then get ready.  To quote our governor "Let's Get to Work!"
** This program is not sponsored/endorsed by the Palm Beach County Library
It was Philly Cheesesteak night at Big Al's Steaks in Legacy Place for our meeting – or at least it seemed that way looking at what most everyone was having for dinner!  Thanks to Adam Costilo for hosting us and for the 912 discount.
Shannon Armstrong, South Florida 912 co-founder, kicked off the meeting, describing some of the group's history and telling us about upcoming charity activities for November.  She introduced David DiCrescenzo as our MC for the night, who started us off with the prayer, and Matthew Kenney leading us in the Pledge of Allegiance. 
David introduced Marianne Polulack, who had written a post on the website about our Value of the Month – Hard Work.  Marianne eloquently spoke about hard work in all facets of our lives and reminded us that it'll also be hard work to achieve all that we want to in 2012.  Next, Iris Scheibl introduced County Commissioner District 2, Paulette Burdick.
The Commissioner spoke about the recently passed budget and the difficult budget year ahead of us for 2013.  By taking one-time funds from the 'Roads' budget to close the budget gap, we have set ourselves up for an even bigger hole.  Ms. Burdick also described the challenges of having been on the School Board and contrasted it with the County Commission.  She fielded questions from the audience about the water issues, the highway/road budget, fire rescue salaries and the upcoming Charter Review.
After a short break, David introduced Al Costilo (Big Al 😉 )  who paid tribute to Joey Vento – recently deceased owner of Geno's Subs in Philadelphia.  Joey had achieved notariety when he'd posted a sign asking that all food orders be placed in English.  He became a public figure after that.  Al had met him personally when starting up his Big Al's Steaks stores.  He played a few short videos as well.  Fred Scheibl spoke about the upcoming Fire/Rescue contract negotiations and encouraged others to join in observing the talks.
David  then told us a little bit about what it was like being a reporter at CPAC and Presidency 5.  He got to go behind the scenes and also observe audience response and it was clear that he'd had an amazing experience.  David then introduced Tami Donnally who also had attended CPAC and P5.  She told us why she was supporting Herman Cain and that she was the PBC leader for Cain.  There is a kick-off next Tuesday (posted on the website's calendar).   Carl Domino attended briefly but was unable to stay until the announcement section of the meeting.  He was going to let us know about the Mitt Romney PBC Kick-off  this Friday.  Please get involved and support/volunteer for your favorite candidate.  The Presidential Primary on January 31 will be here before you know it!
Mike Lamayer, candidate for FL Senate District 25 then spoke about his campaign and issues that are key for him.  Iris Scheibl described two upcoming events – Cut Spending Now Rally next week  and the panel on both sides of dealing with  Illegal Immigration in Florida by the Republican Club of the Palm Beaches on October 27th.  Jason Shields held the 50:50. 
Thanks to the volunteers who greeted everyone, got there early to help set-up and clean-up afterwards.
Our next meeting will be a kick-off for the upcoming Election Year – watch for more details soon!
Americans for Prosperity launched a National Cut Spending Now tour in Washington State. Since then, they have been mobilizing grass-roots activists in rallies across the country – culminating in their fifth annual Defending the Dream American Summit Washington DC on November 5th. In addition to having speakers and displays at each stop, activists will have the opportunity to sign the Cut Spending Now petition, to tell Washington to cut spending now and restore the basic principles of economic freedom that will revive American growth and create jobs
The West Palm Beach stop on the tour will be on Wednesday, October 19th at 5:30 pm in Centennial Park, 100 S. Clematis Street. Guest speakers will include AFP President Tim Phillips, Florida Director Slade O'Brien and local Patriot Leaders.
Wear your South Florida 912 shirts or patriotic shirts!
For more information contact Slade O'Brien at sobrien@afphq.org or at 561-441-5866. Click on Cut Spending Now for an event flyer.
Last year a number of 912ers gathered together with a group of churches and the city of Greenacres where we helped serve up some yummy food for those in need at Thanksgiving time. We had a terrific time and would love to get even more people involved this year.
Tami Donnally is our contact person and all the details are still being worked out as more info becomes available I will pass it on.
We will need people to help cook the turkeys and then bring them on Wed. night.  Billy hasn't met with the community people yet, so he's not sure what they have set up so far…he will let us know if food/desserts/drinks are needed.
They do accept cash donations to help offset the cost of turkeys…
Wednesday night before Thanksgiving, about 5:30 -6pm
Last year my kids and I had a terrific time helping out and hope to see all of you there as well
Please RSVP so we know who to contact with the final details
and let me know if you can bring a cooked Turkey.
God Bless
Shannon
Event Tracking

You must be logged in to join the event.
South Florida 912 Supports Project Holiday
In an effort to support deployed USA military members during the holiday season, the City of Delray Beach, "You Are Not Alone", the Church of the Palms Congregational and "One Soldier at a Time" have come together to support the 6th Annual Project Holiday. This important Project collects and ships desperately needed items to our military who will not be able to come home for the holidays. The community is encouraged to experience the true spirit of the holiday by contributing to this worthy cause.  Donated items will be accepted at various locations around the City and again at several locations in Boca Raton from October 19 – November 18, 2011.
Examples of needed items are: (travel size preferred): Thermoguard pads (heating pads), holiday decorations – All Faiths, bags of hard, individually wrapped candy (i.e., lifesavers, dollar store hard candy – please no chocolates except for tootsie rolls, tootsie roll pops, charm pops, etc), snacks that can easily be put in their pockets while on duty (i.e., fruit cups, peanut butter crackers, etc), gum, beef jerky, Slim Jim, pepperoni or similar dried meats, boxes of granola bars or similar, individual bags of nuts, dried fruit, trail mix or sunflower seeds, boxed and/or individual drink packets (i.e., Crystal Light, Wal-Mart or Target brand, Kool-Aid, hot chocolate, etc), non-perishable food items, foil packed tuna and chicken, crackers, sun block, lip balm, baby wipes (no bigger than 2½" wide packages), Purell hand sanitizer, hand lotion, batteries (AA or AAA), foot powder, deodorant, toothpaste, socks (white or black knee-hi), nationwide phone cards, disposable cameras, used CD's, DVD's (no VHS tapes or cassettes), letters, notes, holiday cards, encouragement cards.
Monetary donations to cover postage costs and to purchase calling cards are also appreciated. Send a check or money order made payable to Project Holiday and mail to: City of Delray Beach, c/o Delores Rangel, 100 NW 1st Avenue, Delray Beach, FL 33444.
If you are a City resident of Delray Beach or Boca Raton with a family member serving overseas and would like a package sent to them or wish to volunteer with packing items to be shipped, contact Delores Rangel at (561) 243-7010.  Information on Project Holiday can also be found on the City's website, www.mydelraybeach.com.
Please bring the items to our Nov 10th meeting.
Southflorida912 wants to support this effort like we did a similar effort last year please gather the supplies and bring them to our next meeting.
Thanks in advance for all you will do.

This months value is Hard Work.
What does the value of Hard Work mean? How does it tie in with the other values of honesty, reverence, hope, thrift, humility, charity, sincerity, moderation, courage, personal responsibility and friendship? I believe we need to work hard to keep these values in our lives. We have many distractions that can pull us in an opposite direction. So, yes to work hard means to have the determination to go beyond the easy thing to do.
Many of us have worked hard to provide for our families, to give our time, talent and treasure to our churches and our favorite charities. We work hard because these things have a value worth working hard for.
Being a member of the 9/12 Group has inspired me to get more involved in the political process. I see the value of working hard to ensure that we keep our Constitution as the law of the land and thereby enjoying those unalienable rights given by our Creator…life, liberty and the pursuit of happiness. I believe we need to step out of our comfort zones and work hard just as our founding fathers did. In May of 1787, our founders gathered for the first Constitutional Convention in Philadelphia. They worked many long hours over one of the hottest summers that Philadelphia had experienced in over thirty years. Think, no air conditioning and the windows were shut for privacy. They had the determination to give it their all to have this nation succeed. The Convention ended on September 15th. Four long months and yes their hard work paid off.
As members of 9/12, we have a lot of hard work ahead of us in this upcoming election year. Our time, talent and treasure will be needed to support those candidates that do uphold the principles and values we subscribe to.
In closing let us remember the words of John Quincy Adams who worked so hard against slavery in this country and yet never saw the fruit of his labor. He said "Duty is ours, the results are Gods". As citizens of this great county we must also do our duty and trust that the results are in God's providence over us.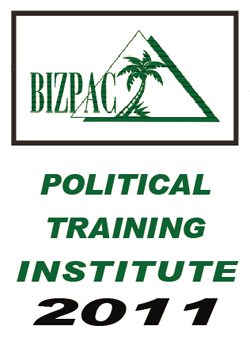 Are you thinking about being a candidate for public office? Not sure how to get started?
The BizPac Political Training Institute will be holding classes over the next four weeks that will answer all your questions.
For more information:
---
The BIZPAC Political Training Institute (PTI) is designed to give participants a firsthand look at the political process and the technical details of operating a political campaign. From demographic profiles to press relations and fund raising, PTI looks at every aspect and idiosyncrasy of the political campaign process and gives participants the knowledge and the resources they need to enter the political arena. Good for potential candidates, campaign workers or volunteers, PTI covers the do's and don'ts of successful political campaigning.
PTI includes four Tuesday night sessions beginning October 11th. Each session is held from 6pm-9pm and includes dinner. The schedule is as follows:
Session 1 – Becoming a Candidate and Creating a Campaign, October 11
Session 2 – Funding Your Campaign (Smile & Dial), October 18
Session 3 – Candidate Presentation and Image, October 25
Session 4 – Communicating The Campaign Message to Win, November 1
Each night will feature a panel of instructors including political consultants, elected officials, former candidates, representatives from the media and other professionals who work with candidates.
The cost to attend all four session is $95.
Most of you know Mike Lameyer – early 912er, candidate for Senate in district 27. Among many other things, Mike is a Certified Firearms Instructor.
Several members have expressed an interest in learning about personal firearms, up to and including obtaining their concealed carry permit. Mike has offered to hold classes on this subject, in groups of up to 5 at a time, including range time. The class will cost $75 for 912 members, a discount off Mike's normal rate of $100. (range fees not included)
If you had this on your to-do list for a long time, now's your chance! Classes will be starting after we ascertain the interest. Please send a note to info@southflorida912.org if you would like to participate in these classes and we'll get back to you with times and dates.