The Boca Raton Chapter of the Palm Beach County Tea Party, in conjunction with South Florida 912, will present the "Pre-Primary Candidate Forum", on Tuesday, August 7th at 7:00pm at Boca Greens Country Club.
This is an opportunity for all of us to meet and hear the candidates for FL District 82.  As there are no Democrat challengers for this position, but one Independent Write-In candidate (whose name will not appear on the ballot) – the winner of this primary will effectively be the winner.  During dinner, Senate Candidate Dr. Dave Weldon will speak as well.
Many of you were involved with speaking out on the importance and independence of the Inspector General over the last 3 years.  Twice a year, the IG gives a report to the Inspector General Committee – which consists of the Commission on Ethics, the Public Defender and the State Attorney.  It's a great summary and the questions asked of the IG by the Committee are enlightening as well.  I encourage you to attend – if you can. It is a public meeting.
Inspector General Committee Meeting
9:30 a.m. • August 1, 2012
Jane M. Thompson Memorial Chambers
301 North Olive Avenue 6th Floor
West Palm Beach, FL 33401
For more information go to the OIG Website.  The agenda for the meeting can be found here.
Disclaimer: These election selections are the personal choices of the South Florida 912 leadership team, not an endorsement by the organization. Many members have asked for such a guide, as an aid to their own research. As such, we are asking you to look at our picks, read our rationale, then choose for yourself.
For an in-depth look at all the candidates, use our Online Voters Guide
Republican Primary Race
Race
Our Choice
Rationale
Congressional District 18
Allen West
We have remained neutral in the partisan primary races with this one exception. Allen West has been a favored candidate of the South Florida 912 since its origin in 2009, and many of us worked on his initial 2008 campaign. Washington is broken and Congressman West represents a new breed of leader who approaches the problem in a strategic way, solidly grounded in the principles on which our country was founded. While the redistricting that turned his district into hostile territory is seen by some as an attempt by status quo Republicans in Tallahassee to silence this change agent, his move to CD18 offers the opportunity to continue the fight. His primary opponent, Martin County Sheriff Robert Crowder considers himself as the alternative to the "carpetbagger" from Broward who "knows District 18". Given his support for Alex Sink in 2010 and limited understanding of Obamacare as one of the most significant threats to our Founder's concept of limited government, he is a poor alternative. With the national Democrats pulling out all the stops to defeat Allen West in November, Sheriff Crowder should put aside his ego and join us in the trenches.
We have stayed neutral on the other Partisan races. See below.
Non-Partisan and Open Primary Races
Race
Our Choice
Rationale
County Sheriff
Joe Talley
As in the Presidential election, this race is a referendum on the incumbent. Putting aside the fact that there should be term limits for all elected office including this one, Sheriff Ric Bradshaw, in his 8 years, has made a name for himself beyond the county for his approaches to gangs, pill mills, homeland security and other law enforcement initiatives. He has also grown the PBSO budget 77% in that time, without full public disclosure, resisted calls for Inspector General oversight, and has not addressed the the allegations brought by Mr. Talley and others of unfairness in personnel decisions, nepotism, and awarding vendor contracts to political supporters.Joe Talley, a 22 year veteran of the Baltimore County Police and 5 years with the PBSO reserves is a qualified law enforcement professional who has committed to fixing these problems, including inviting in the IG and posting the budget on the internet. The third challenger, Cleamond Walker, agrees with Mr. Talley on many of these points, but lacks the extensive experience needed to manage the sprawling 4000 person agency with a half billion dollar budget. We think it is time for new leadership at PBSO, and Joe Talley is our choice.
Clerk and Comptroller
Sharon Bock
Incumbent Sharon Bock has been Clerk and Comptroller for eight years, following 5 years as a manager in that office and 25 years in the private sector as financial consultant, attorney, and small business owner. Her office operates smoothly and we have found her accessible and helpful to county residents. Her stewardship of the county's investable assests has generated superior returns compared to peer counties (although with more risk). On the downside, she has hampered the office of Inspector General by witholding the municipal funds pending the outcome of the city's lawsuit – a position not clearly acknowledged as necessary. Her opponent, Lisa Epstein is a former nurse and foreclosure fraud activist who would like to utilize the position of Clerk to investigate and punish the banks and other wrongdoers she sees. Pretty easy choice on this one.
Property Appraiser
Gary Nikolits
Determination of fair, impartial and accurate property valuation is an essential function of county government. While the policy issues of tax rates and spending are in the political domain of the County Commmission, the base against which the taxes are levied is determined by the non-partisan office of Property Appraiser. Over the last 20 years and 5 election cycles, Gary Nikolits has managed that office with professionalism and excellence, as befitting his extensive credentials and experience in the field. Valuations have been based on sound methodology and immune to political influence, a fact not overly appreciated by some commissioners. The challenger in this race, Robert Weinroth, is an attorney and owner of a medical supply company with no technical expertise in appraisel or real estate. The main rationale for his candidacy seems to be that the incumbent has been in office for too long and it is time for a change. We disagree.
Supervisor of Elections
Woodie McDuffie
Challenger Woodie McDuffie has made this race about competence. After the Wellington fiasco, when the losers of the council race were mistakenly certified as the winners, he points to multiple technical problems in the SOE office and offers his background as an IT professional at Burroughs and more recently with the Property Appraiser's office as a solution to the problem. For her part, Susan Bucher makes a credible defense, laying blame on the vendor and the state officials responsible for certifying the equipment. For us however, the major issue is ideological zeal. Ms. Bucher believes her mission is to increase voter registration, oppose efforts by the Governor to clean up the voter rolls, and champion the voting rights of minorities which she claims have been compromised by the Republican Legislature. This partisanship has no place in the SOE office and it is time for a change. The third candidate in the race Caneste Succe is a former outreach coordinator for the SOE. So far he has not made a strong case for his candidacy.
School Board District 1

Christine Jax
The School Board is the policy making body for a sprawling district with over 20,000 employees and a budget of $2.3B. As with anything that size, there are multiple interest groups with their own agendas, such as the Superintendent and his staff, the teachers, the custodial and office employees, the vendors, the federal and state government, and of course the taxpayers. A good policy maker should walk among these groups with the big picture in mind. One candidate, Christine Jax, may have this skill. She is an educational policy expert with serious experience as the Minnesota Commissioner of Education, and a published thought leader, yet independent of local influence. Of the others, former principal Michael Murgio has excellent credentials, but his support comes primarily from within the system. Michael Howard has been a single issue activist, although an effective one. Substitute teacher Robert Bittenbinder and real estate broker Lowell Levine are too far removed from the key issues of school policy to be immediately effective. Only Christine Jax, in our view, could bring fresh ideas to a system that needs fresh thinking and an independent hand. She is also the only one of the candidates that is solidly behind high stakes testing as a useful metric.
15th Circuit Judge Group 2
Timothy McCarthy
Judicial elections for sitting judges are serious matters. After a career on the bench, a judge often retires and becomes a Supreme Court apppointed "Senior Judge", on call to step into the courtroom when needed. Judges who lose re-election are not so appointed and it marks the end for them. As has been pointed out, 70% of circuit court judges are appointed, and the Governor draws from a pool that has been pre-screened by a Judicial Nominating Commission. An appointment to replace a sitting judge who reaches the age limit would thus be an acceptable outcome in our view. Barring any allegations of misconduct, a judge challenged on only an age-retirement basis should be retained. Although Judge McCarthy has drawn criticism from attorneys for his demeanor, he acknowledges the problem and the challenger has not raised the issue. Therefore we reject the rationale for the challenge by Jody Lane and support Judge Timothy McCarthy
15th Circuit Judge Group 9
Ron Alverez
Judge Ron Alvarez is highly respected, including by his opponent, and Jaimie Goodman is bringing his challenge purely on the age/retirement issue. Therefore, as with group 2, the sitting judge does not deserve removal from office. It should be noted that Mr. Goodman, who has made the effort to get to know us in the South Florida 912 and attended our meetings, would also make a fine judge and we hope he will try again if not successful in this race.
15th Circuit Judge Group 26
James Martz
The group 26 contest pits two former police officers in a clash of wills. Sitting Judge James L. Martz, appointed to the Circuit Court after 5 years on the county bench and a career that also included assistant state attorney and private security consultant, gets good reviews. The challenger, Margherita Downey, claims her clients are not respected by Martz (although others disagree) and has clashed with him in the courtroom. She has a history of confrontations with other judges, leading in one case to a letter of admonishment from the bar. In this case we give the benefit of the doubt to the incumbent.
County Court Judge Group 4
Peter Evans
Judge Peter Evans has been on the bench for 24 years and never before challenged for re-election. His experience extends to all the divisions of the County and Circuit courts. Challenger Kenneth Lemoine, in his third attempt at judicial election, is a former West Palm Beach police officer, now an attorney with a solo practice. He has accused Evans of being disrespectful in the courtroom, but Evans responds that he simply requires adequate preparation by litigants. In this case as well, we give the benefit of the doubt to the incumbent.
County Court Judge Group 6
Jane Sullivan
We have picked the incumbent in the other 4 judicial races, but group 4 is an open seat. One of the candidates, Judge Edward Garrison was on the bench for 30 years. Fully vested in the state's retirement system, he retired in 2010 "to protect his family's financial future', and now serves part time as a Senior Judge. It would seem returning to the bench would be an example of that "double dipping" that the taxpayers dislike. Jane Sullivan, an experienced public defender, is on her third attempt at a judicial election, having come within 1% in the 2006 race. Although Judge Garrison was a fine judge, his decision to retire and draw a pension should be considered and Jane Sullivan should have her chance at the bench.
House District 87 (open primary)
We have no pick in this race.
House District 88 (open primary)

Charles Bantel
Evelyn Garcia
Bobby Powell
Nikasha Wells

We have no pick in this race.
Republican Primary Races
Race
Your Choices (*incumbent)
Background
US Senate

Connie Mack
Ron McNeil
Mike McCalister
Marielena Stuart
Dave Weldon

Connie Mack IV is the frontrunner, a Congressman with a conservative voting record often confused with his father of the same name who is a former Senator.
Ron McNeil is a panhandle businessman and outspoken opponent of radical Islam.
Mike McCalister is a retired Army Colonel, farmer, college instructor and former candidate for Governor.
Marielena Stuart is a Collier county activist of Cuban heritage who champions liberty and the founding principles.
Dave Weldon is a former Congressman from the Space Coast who has offered himself as the late entry alternative to Connie Mack.
Senate District 25

Melanie Peterson
Geoff Sommers

Melanie Peterson is a Realtor specializing in equestrian properties and a board member of the western PBC Farm Bureau, well suited to the agricultural focus of this district. She fancies smaller government, and lower taxes.
Geoff Sommers is a Boca Raton attorney involved in international trade issues and part time college instructor. He would seek to control spending.
Senate District 34

Ellyn Bogdanoff*
Mike Lameyer

Ellyn Bogdanoff was elected to the Senate in 2010 after 8 years in the House. An attorney and insurance expert, she was a proponent of expanding casino gambling, supported the budget, school vouchers, student led prayer and private prisons.
Mike Lameyer is a Vietnam era former marine, commerical pilot and flight instructor, firearms instructor and venture capitalist. He ran for Senate district 27 in 2010, losing to Lizbeth Benacquisto. Mike favors e-Verify and dealing effectively with illegal immigration in Florida.
House District 82

Carl Domino
Mary Lynn Magar
John Milton
John Pasqualone
Calvin Turnquest

Carl Domino, owner of a financial services company, served 8 years in the old House district 83 and ran for Senate in 2010, losing to Ellyn Bogdanoff in the primary. He is remembered for his leadership on the "Save our Homes" statute.
Mary Lynn Magar is VP and General Manager of Heart Care Imaging, and is the Martin County State Committeewoman. She is opposed to increasing taxes or spending at the state level.
John Milton is a Civil Engineer and owner of Milton Engineering Consultants, a former MSO reserve Deputy, and a PTA President. He believes the state needs to operate within its means.
John Pasqualone, a former Fireman, Jon is the COO of the Florida Fire Marshals and Inspectors Association, directing their positions for and against legislation.
Calvin Turnquest is a councilman and former vice mayor of Tequesta. He was instrumental in obtaining $3M in stimulus funds for a local bridge project.
County Commission District 1

Dan Amero
Harry Gaboian
Hal Valeche

Dan Amero, a Vietnam era Marine veteran and PBSO detective, is the owner of Jupiter Fitness Center, and has been a councilman in both Jupiter and Tequesta. He advocates simpler regulations, lower taxes on business, and ethical behavior.
Harry Gaboian, a county Airport Operations Officer has been a small business owner and substitute teacher. He opposes subsidizing business with taxpayer money.
Hal Valeche is a financial consultant, former Palm Beach Gardens Councilman, and congressional candidate. He advocates lower taxes and responsible spending.
GOP State Committeewoman

Fran Hancock*
Cindy Tindell

Fran Hancock is the incumbent State Committeewoman. Well known to most county GOP activists, as Fran introduced many of them to politics over the years. She has a wide network of associates throughout the state GOP and is skillful at organizing on the precinct level.
Cindy Tindell, an executive at Nextera Energy (an FPL affiliate), is President of the Republican Club of the Northern Palm Beaches and a GOP fundraiser. She offers "new ideas and enthusiasm".
GOP State Committeeman

Corey Brisson
Peter Feaman*

Peter Feaman is the incumbent committeman who has twice been elected caucus chairman at the state level. He is a trial attorney and serves on judicial nominating committees at the circuit and appelate level.
Very little is known about opponent Corey Brisson, 26, of Delray Beach.
Democrat Primary Races
Race
Your Choices (*incumbent)
Background
Congressional District 18

Patrick Murphy
Jerry Buechler
Jim Horn

Patrick Murphy, age 29, is an executive at Coastal Environmental Services, affiliated with a top "green" company. As the designated challenger of Allen West, he is well funded by national Democrat doners.
Jerry Buechler has been a firefighter/paramedic, and a principal in the Firefighters Insurance Trust, the self-insurance organization of the IAFF.
Jim Horn is the owner of Techkraft, a business consulting and marketing company. He ran for CD 16 in 2010 against Tom Rooney, winning 36% of the vote.
Congressional District 22

Lois Frankel
Kristin Jacobs

Lois Frankel is a West Palm Beach attorney and two term Mayor who served in the Florida House from 1986-91, and 1994-2002, broken by an unsuccessful challenge for Alcee Hastings' Congressional seat. A controversial figure as Mayor, she is well funded by national Democrats eager to acquire CD22.
Kristin Jacobs has been a Broward County Commissioner since 1988 and is term limited in 2014. Lacking Frankel's out of state support, she is at a 6:1 disadvantage in fundraising.
Senate District 27

Mack Bernard
Jeff Clemens

Mack Bernard is an attorney and owns a law firm and title company. A former Delray commissioner, he has represented House district 88 since 2009 and has support in the business community. He supports school vouchers.
Jeff Clemens is a former Mayor of Lake Worth and has represented House district 89 since 2010. He is the union candidate, and votes the party line.
House District 81

Steve Perman*
Kevin Rader

Steve Perman is a Chiropractic Physician from Boca Raton. He was the only candidate in 2010 for House district 78 and became the incumbent without receiving a single vote. He has consistently voted with his party.
Kevin Rader is an insurance agent and business owner living in Delray Beach. Elected to house district 78 in 2008, he left after one term to run for the Senate in district 27, losing to Republican Lizbeth Benacquisto.
County Commission District 5

Mary Louise Berger
Steven Meyer
Rick Neuhoff

Mary Louise Berger has been the administrative assistant to Burt Aaronson for 17 years. As such she brings both continuity and baggage. She is strongly supported by Sheriff Bradshaw and the IAFF.
Steven Meyer is a Boca Attorney who represented the county Democrats during the 2000 Bush/Gore recount. He ran and lost a bid for House district 87 in 2000.
Rich Neuhoff has worked in the recording industry, graphic arts and marketing. A vocal partisan Democrat, he has attracted recent attention for his belief that George Bush had foreknowledge of the 9/11 attacks.
Tax Collector

Peter Carney
Anne Gannon*

Incumbent Anne Gannon has been Tax Collector since 2006 when she defeated the current challenger with 60%. She was a three term state legislator and owner of a public policy firm, and currently lives in Delray Beach.
Peter Carney, then a Republican, was appointed by Jeb Bush to the Tax Collector position in 2006 but lost the election to Ms. Gannon. He is a Boynton Beach attorney and tax specialist.
Port of Palm Beach Group 1

Joseph Anderson
Wayne Richards*

Incumbent Wayne Richards has been a port commissioner since 2000 and is a former Chairman. He has a BS in Mechanical Engineering from Howard University and a JD from the University of Michigan and practices law in West Palm Beach.
Joseph Anderson is a Riviera Beach native. He has a BA in Accounting from Bethune Cookman University, and is past President of the Voters League of the Palm Beaches.
JUPITER/TEQUESTA REPUBLICAN ORGANIZATION MEETING, JULY 31
"YOUR DISTRICT, YOUR CANDIDATES"
Please join us! Tuesday, July 31, 2012, 7PM
American Legion Post 271
775 North US Hwy 1
Tequesta, FL
Moderator: Bob Nichols
Cash Bar –Event is free
Jupiter/ Tequesta Republican Organization (www.jupitergop.com) is all about its residents and candidates.
We are sponsoring this Candidates Night event for YOU.
Races Covered: US Senate, Circuit Court Judge, US Representative, School Board, State Representative, Sheriff, PBC State Attorney, Property Appraiser, State Committeeperson, Supervisor of Elections, County Commissioner, Jupiter Inlet Commission
RSVP- jupitergop@gmail.com
Get ready for an amazing week filled with music, service, faith, history and inspiration! If you're not joining Glenn in Texas, as a GBTV Plus subscriber you'll get access to all the Restoring Love coverage. Coverage of the events begins TONIGHT and concludes with the main event at Cowboys Stadium on Saturday – you can watch all the coverage live or on demand.
http://www.glennbeck.com/restoringlove/broadcast-schedule/
Restoring Love Full Broadcast Schedule
Coverage Available only on GBTV Plus
Watch Live or On Demand
Monday, July 23rd
Restoring Honor: 8/28 The Documentary
When:Documentary begins at 7pm ET on GBTV.
What: It all began on the steps of the Lincoln Memorial with Restoring Honor two years ago, where hundreds of thousands of people came together to show the world that we weren't looking to Washington, DC for answers, but to one another and to God. Our cameras were rolling from the time Glenn arrived in Washington until the time he took the stage. Relive the magic that was 8/28 with Restoring Honor: 8/28 The Documentary.
Tuesday, July 24th
Restoring Courage: The Documentary
When:Documentary begins at 7pm ET on GBTV.
What: The journey continued last summer in Jerusalem with Restoring Courage, where we declared that no matter what our leaders say, "We the People" will never abandon our allies in a time of crisis. Watch Glenn as he travels to Israel to stand up for freedom, faith and love. Don't miss this exclusive documentary.
Wednesday, July 25th
The Road to Restoring Love
When:Live coverage begins at 7pm ET on GBTV Plus.
What: Join Glenn & Erick Stakelbeck as they revisit the messages & memories behind Restoring Honor and Restoring Courage.
Thursday, July 26th
Freedom Works: Restoring Freedom
When:Live coverage begins at 7pm ET on GBTV Plus
What: Join grassroots activists from around the world in their fight for freedom & democracy. With speeches from Glenn Beck, Dick Armey, Matt Kibbe, Richard Mourdock, Ted Cruz, Rand Paul and many more this event is not to be missed!.
Friday, July 27th
Religious Leadership Conference – Under God: Indivisible
When:Live coverage begins at 7pm ET on GBTV Plus.
What: Join Erick Stakelbeck & CL Bryant for their coverage of the Religious Leadership Conference – Under God: Indivisible. This call for spiritual awaking features inspirational speeches from Kenneth Copeland, Tony Evans, John Hagee, Robert Morris, James Robison just to name a few.
Saturday, July 28th
Restoring Love – Live from Dallas Cowboys Stadium
Pre-show: The pre-show begins at 8pm ET on GBTV Plus.
Live Event:The main event begins at 9pm ET on GBTV Plus.
What: Over the past two years, Glenn has traveled the world promoting messages of faith, freedom, honor and love. Join Glenn as he brings the global movement for good home to Dallas, Texas. This epic event will feature a host of musical performances and an empowering speech by Glenn himself. Don't miss this historic event!
Click here for complete Restoring Love coverage…
Palm Beach County Sheriff candidates Ric Bradshaw, Joe Talley and Cleamond Walker faced off in a relatively cordial exchange at the forum hosted by the Wellington Chamber of Commerce today at the Wanderer's Club.
Joe Talley
Going first, challenger Joe Talley stated that "the Department needs a new heart". Coming from a 22 year career with the Baltimore County Police, an agency about the size of Law Enforcement in PBSO, Joe described the environment there as open and honest, with "many opportunities on a level playing field to be assigned or promoted without bias" or anything to do with the political arena. Not the case at PBSO he concluded from his 5 years in the PBSO reserves.
Mr. Talley continued, leveling several charges against the leadership of Sheriff Bradshaw, including lack of transparency in the budget, opposition to Inspector General oversight, lack of national accreditation which he says is unattainable with the current personnel and other issues, a case clearance rate well below the national average, lack of attention to our position as number 3 in human trafficking in the country, and an image of bullying and intimidation that has caused a division between PBSO deputies and the communities they serve.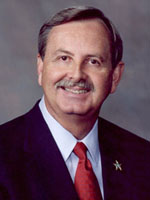 Ric Bradshaw
Sheriff Bradshaw in his remarks, was dismissive of Talley's criticism, calling it the "politics of personal destruction". Castigating those "Chicken Littles" who say the sky is falling he assured us: "Folks, the sky ain't falling". Deflecting the internal personnel issues, he pointed to PBA President John Kazanjian, sitting at the Bradshaw table with other supporters including State Representative Joe Abruzzo, asking "Why would the PBA endorse me if there was a problem with employees in the agency?" and then went on to list the FOP and IAFF as other unions who have endorsed him. On national accreditation he said it was redundant and expensive, so why do it? On the bullying and intimidation, and other criticisms he gave no answer.
The Sheriff then went on to describe accomplishments and recognition received in the areas of gangs, pill mills, homeland security, and childhood sexual predators. It is a simple decision he said, between his proven leadership and one who has not yet held such a post.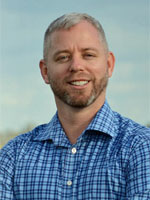 Cleamond Walker
Cleamond Walker, late for the meeting, started his remarks after a short delay. He described his first visit to Palm Beach County, how he has loved it for 30 years, and how he wants to give back by serving as Sheriff. He outlined his priorities which included going after the top drug dealers, cutting the budget by trimming the executive ranks, and bringing spending into line with the fiscal realities of the real estate bust.
In a calm and professional manner, Joe Talley leveled a long list of serious criticism against the current regime. With less than a month to go before the election, we are hopeful that the Sheriff will attempt to set the record straight and address the serious issues raised straight on – perhaps in one of the few remaining public forums.
The Washington Times reports that Barack Obama is now saying on the stump that people who create businesses and hire people are nothing special. The entire American experience is a mystery to this man. Some quotes:
"… look, if you've been successful, you didn't get there on your own. You didn't get there on your own. I'm always struck by people who think, well, it must be because I was just so smart.
If you've got a business — you didn't build that. Somebody else made that happen. The Internet didn't get invented on its own. Government research created the Internet so that all the companies could make money off the Internet.
For the video and the article, see: Obama – 'If you've got a business — you didn't build that. Somebody else made that happen'

Catchy Tune